For more than a year, some of my friends and former coworkers have been sharing music. The idea is that we're supposed to review/rate what's shared with us, then share those reviews with the group, but that doesn't always happen.
I have this list of albums I want to share, plus I have a couple of notes at the bottom for some other things. Like when, a year ago, we decided to share a cover we though was better than the original. I started thinking through covers I liked and made a list. And even though I shared one, I have a bunch of others that I don't know when I'm going to share them. So I'm going to do that this week. But first:
Steely Dan – Aja (1977)
I've only been a radio Steely Dan listener. Not because I haven't liked what I heard, I'm just kinda lazy and haven't sought out more. Well, here we go.
It starts with more of a soft funk/gospel sound than I anticipated. I mean, I expected funk and latin influenced rock, but I didn't expect soft rock. And the front half of the record just kinda sticks to it. It's like prog soft rock. Did Kenny G play with these guys?
I kid. But seriously, they had some interesting musical ideas, but either they were super high (which is likely) and were unable (or maybe a little afraid) of putting more energy into recording, or they rehearsed the heck out of these tunes and were bored with them. The sax solo in the title track almost got them off the couch, but it didn't stay there. Their drummer was feeling it, and was feeling it again at the end of the track, but apparently everyone else was kinda having a bad trip and couldn't follow the drummer's lead.
Starting with Peg, the album started getting better for me. The guitar solo was great, the chorus was great, it had momentum, and even though the backing keys got a little old it helped that the track was relatively short.
Home at Last was a nice blend of bluesy jazz rock, with maybe just a little reggae in there. I Got the News felt Doobie Brothers esque at times, which makes sense when I learned that  a couple of the guys left Steely Dan and joined the Doobie Brothers around this time.
But I think the track had the best groove of all of them. The hook was a little weird, but it was like the band got sober for an afternoon and weren't afraid to play a sweet funk jazz rock tune.
It's not a bad record, but it kinda got old for me. So it barely gets a 3/5 if I round up to whole numbers.
Queen – Sheer Heart Attack (1974)
After the smoothness that was Steely Dan's Aja, this album feels downright manic. Now I can't quite give a direct comparison to A Day at the Races or A Night at the Opera, but it's easy to understand why Queen made it far when their third outing was doing this.
The first big surprise was Tenement Funster, which felt like some proto-metal tune. It was just so dark and heavy. It was odd, and while it wasn't bad, it wasn't my favorite; the reprise was better. Flick of the Wrist carried that over some except for the piano intro, chorus, and guitar solo.
Another surprise was Lap of the Gods. Mostly it was just a forgettable little tune with some totally expected Queen operatics. But there was a wordless voice in the background that just felt super Pink Floyd and that was what surprised me.
The third surprise was the vaudville number Bring Back the Leroy Brown. It has some sweet ragtimey stuff and Brian May's banjolele is freakin' awesome. And then the little boogie break in the middle is also great.
Of course I had heard Killer Queen before, and it's sweet. But there's another song I had known coming into this album, and I think it's better: Stone Cold Crazy. Metallica covered it on their Garage, Inc., and if I didn't know better I'd say Queen did a faithful cover of a Metallica song. But I do know better. And to me it's more impressive that Queen wrote the hard rocker. And I think they're version is better. There isn't really anything special about the Metallica version. Now I'm Here is also a great tune I had heard before. It's just a little more rock and a little less pop than Killer Queen.
And I really liked how after the hardest song on the album was the softest. I mean, I liked Dear Friends anyway, but the juxtaposition made it even better.
Some songs, like Misfire, were just fine (although I did like the more clean/acoustic sound on Misfire). The only dud on the album was She Makes Me (Stormtrooper in Stilettos). It felt like it was some sappy '60s b-side.
But She Makes Me not withstanding, I think this album deserves a 4/5. Barely, but it is better than your average album.
My Mix
I actually left a couple of them off because I want to share those bands later and I don't want the guys (or you) looking more into them yet. The whole playlist is on Spotify.
Like the other times I've shared a mix, if anyone has any thoughts on a specific track, I've put that right after the subject track. Otherwise, it's at the end.
They Might Be Giants – Jessica
From their 1993 EP Why Does the Sun Shine? (The Sun is a Mass of Incandescent Gas). Originally by The Allman Brothers Band (although written after Duane Allman died), this was written to be played with just two fingers, in a tribute to Django Reinhardt. I love the original. It rocks. But I love TMBG's version because of the dixieland flair they give to it. It's a pretty cosmetic change, but I think it makes a world of difference. You may also recognize this as the theme song to Top Gear.
TMBG's version of Tubthumping gets an honorable mention.
The DejaBlue Grass Band – Ticket to Ride
From their 2008 Bucket Full of Rain. This is one of those Beatles songs I've never minded, but I've never really loved either. The DejaBlue Grass Band is from the Atlanta area, but I played with them once in Elko (I think) of all places. I had never heard of them before. But I really liked their version of this song. They've got a lot of tight harmonies. And they threw in a reference to the Telluride Bluegrass Festival, which I thought was clever.
Metallica – Turn the Page
From their 1998 Garage, Inc. Bob Seger's original is okay, but I love every thing about Metallica's version. It just rocks. It's obvious that Seger can write good songs, but maybe 1973 just wasn't ready for the full potential of this song. We had to wait 25 years until Metallica took hold of it.
Also, their version of Whiskey in the Jar off this album is amazing, but I decided to not double dip bands. On this album, Metallica also covers Queen's Stone Cold Crazy, originally from Sheer Heart Attack. But, unless you skipped my review, you know why I like the Queen version better.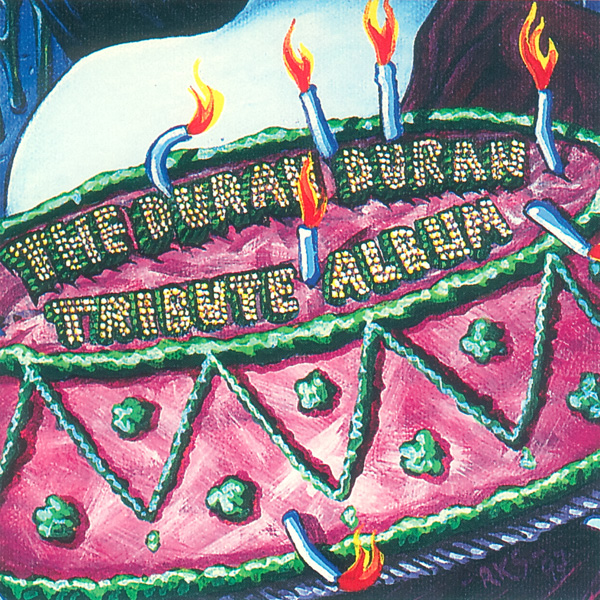 Goldfinger – Rio
You can find this in a number of places. The easiest is 2005's The Best of Goldfinger compilation, but it's also on the Japanese version of their 2000 Stomping Ground as well as 1997's The Duran Duran Tribute Album, which is where it showed up first. Goldfinger takes the '80s (and saxophone) out of this song, and makes it a little less boring by replacing it with some pop punk.
And they also reference a few other great songs along the way.
Electric Light Orchestra – Grieg's Piano Concerto in A Minor
From their 2000 box set Flashback. Don't get me wrong, I like some classical music, but it's almost always better when it's surf rock. And I like ELO, so it works out.
I thought about sharing something off of Béla Fleck's Perpetual Motion, which is technically impressive, but I don't love that album as much as I love this one song. If you want some cello and piano suites arranged for banjo, but not played in a bluegrass style, go check out that album.
In the meantime, rock out with this.
Israel Kamakowiwo'ole – Somewhere over the Rainbow/What a Wonderful World
You can find this on either his 1990 Ka 'Ano'i or (probably easier) 1993 Facing Future. This totally changes the mood from the last song. I guess it's technically cheating, since it's a medley of two songs. But this is great. It's just a chill (and maybe a bit melancholy) tune. And the simple ukulele really helps you just focus on his voice.
Iron Horse – A Different City
While Iron Horse is the band who played on this album, they may not be listed as such, so it's best to start by searching the album title: Pickin' on Modest Mouse. I've never really been a Modest Mouse fan. They've had a couple of good songs, but mostly it's just noise to me. The band often seems to just tell one another what key they're in, and then don't coordinate any more from there. I don't like the guy's voice. I have no idea what they're singing about. The point is that I don't think it's hard to cover them and do it better. But this version, while I'm still not entirely sure what the whole song is about, at least showcases some interesting coherent lyrics. All the other songs on this list, I at least like the original versions (but I still think these covers are better). This song I hated – like a 1/5 – until I heard this version, which is still maybe only a 3, but that's an impressive improvement.
I feel like I need to plug a runner up right here. This is a Finnish bluegrass band covering AC/DC. And while they're obviously super talented and have sweet harmonies, it's the visuals of the video that really do it for me:
Obadiah Parker – Hey Ya
You can find this song on The Tip Jar Volume One, but also on YouTube. I mean, you can find everything on YouTube these days, but this song blew up the interwebs in 2006: Mat Weddle (frontman from the one-man band Obadiah Parker – please don't explain it to me) taking a hip hop funk song to an acoustic open-mic and stripping it down to focus on the rather depressing lyrics. And I love it. It doesn't seem so original now, but I don't remember anyone else doing anything like this at the time.
Reel Big Fish – The Promise
From their 2012 Candy Coated Fury. Reel Big Fish (and a lot of ska bands, to tell the truth) are kind of cover sluts. They do a ton of covers, and most aren't that great. They're okay, but few are as good as this. When in Rome's version is good, like a 4/5. I don't know if it's the '80s or the fact that they're British, but I don't really like the vocals (But iiif you wait around a while I'll maaake you fall for me).
And as long as we're talking about '80s classics (and accordions), here's this little gem; a runner up performed by North Koreans in a Norwegian dry dock (because, why not?):
"My favorite cover by Reel Big Fish is Eagles' "In the Long Run" off the album Fame Fortune and Fornication. They just put a groove to it that I never imagined possible hearing the original. And Boss DJ, but thats less of a quantum leap in genre. I think RBF does most of their covers well. I'm biased though." – Spencer
The Cast of Glee – Don't Speak
This was only released as a single in 2012. I love No Doubt's version, and I never really watched Glee. But my wife did, so I'd catch bits of it when I'd walk through the room; or I'd stop reading my book when they covered a song I knew. Such was the case with this song. Instead of just Gwen's (frankly annoying) voice, they had four voices: two couples who were breaking up during that episode. I know the original was personal for the band, but this version just feel heavier and fuller on top of the personal aspect.
The only song I heard this show do that really caught my attention was their version of Young the Giant's Cough Syrup – but that was because I had never heard that song before. After listening to both Glee's and the original though, I like them the same.
Here's what my friends thought:
"It was a good mix of songs, and you put them in a good order. It felt like listening to a good radio station for me. As a whole I can't feel like it is on equal grounds with a 4-5 star album, but it was enjoyable." 3/5 -Tim
Spencer didn't review the playlist, but he did give me some thoughts on covers. Mostly, he just shared one he found and fits in this category of "better than the original." If you want to share a cover, or your thoughts on these or on Queen and Steely Dan, that's what the comments section is for.
"I've got a song that falls in the same category of "this one song is really cool, but its not on a real album, or I don't know when I'd share the album.
Cereus Bright's Stayin Alive. Check this out:
Way cooler than the BeeGees classic version. The dark feel really brings the message home." – Spencer